Archive for the 'Exmouth Club' Category
Exmouth's final match in Devon's premier inter-club competition was against old rivals Teignmouth, at the Manor Hotel on Exmouth's Beacon, overlooking the sea, with Teignmouth town feintly visible on the other side of the bay.
Looking at the team lists and grades, one might assume this could be an easy proposition for the cup holders, were it not for three things; (a) nothing is certain in chess (b) Exmouth were 3 X 170+ players light, for various reasons, including a family wedding and an Exeter City vs Plymouth Argyle match and (c) on the night of the recent Storm Katie, with the winds howling all around the town, the non-playing Captain, Bob Jones, heard a loud bang in the middle of the night. In the morning, fearing the worst and expecting some degree of structural damage to the house, as there had been in the previous storm only a couple of weeks earlier, he found the noise had been caused by the Bremridge Cup falling off its perch for no apparent reason. Could all this be an omen?
In the event, Teignmouth, too, were under-strength, with their top player, Alan Brusey, unwell. Yet the games went on and on – there were no quick wins anywhere. In fact, it was only when the endgames were reached that the differences in grade began to tell. All 6 games then finished within quite a short time of each other, and suddenly the match was over.
Bremridge Cup (Div. 1)     02.04.2016.
EXMOUTH
EXMOUTH
EXMOUTH
EXMOUTH
1
John Stephens
1
John Stephens
1
John Stephens
1
John Stephens
1
2
Dr. Jon Underwood
2
Dr. Jon Underwood
2
Dr. Jon Underwood
2
Dr. Jon Underwood
2
3
Steve Martin
3
Steve Martin
3
Steve Martin
3
Steve Martin
3
4
Brian Gosling
4
Brian Gosling
4
Brian Gosling
4
Brian Gosling
4
5
Chris Scott
5
Chris Scott
5
Chris Scott
5
Chris Scott
5
6
Steve Murray
6
Steve Murray
6
Steve Murray
6
Steve Murray
6
This left Exmouth with 3 won matches and one drawn. The match they came closest to losing was against Exeter, where Exeter were leading 3-2 and one unclear ending in progress. In the event, Brian Gosling found a clever pseudo-sacrificial move that won the game and saved the match.
Bremridge Cup Div. 1       2015 – 16 season
Team
1
2
3
4
5
Tot.
For
Against
1
Exeter
X
1
0
0
2
Exmouth
1
X
2
2
2
7
18½
5½
3
Newton Abbot
2
0
X
4
Teignmouth
0
X
5
Tiverton
2
0
X
It was time for another top level encounter between near neighbours on the Exe, Exeter & Exmouth. 
Exmouth were without 2 of their top players, Stephens and Shaw, while Exeter had been able to beef up their team with 2 new acquisitions from the University. Matthew Best is a 2nd year economics student, while Chris Lowe is on the University staff, teaching English Grammar to anyone who needs it.  However, although he has just arrived in Exeter this season after 20 years in Sussex, he is not new to Devon, having been part of the Paignton Palace crew in the early 1980s. This was situated in Paignton but distinct from the old town club, and was based in Palace Avenue. Its membership consisted mainly of older Juniors, centred around future IM, Gary Lane, and included players like Paul Aston, A. K. Swift,  Brian Boomsma, the Hawthorne brothers et al.  They won the Bremridge Cup in 1982, '83 and '86, so Lowe was no stranger to this tournament. As the teenagers grew up they went their separate ways and the club eventually broke up. 
These changes made the teams very closely matched on every board, and the outcome impossibe to predict.  The games ended in 2 rafts of three, the first batch being all draws. Firstly, the Regis-Martin game came to an agreeable end when neither player had any advantage. Abbott vs Lowe came down to a R&Ps ending in which neither player felt inclined to push too hard in case it collapsed against them, as can happen all too often. There was nothing placid about Body vs Wensley, in which White quickly got a strong kingside attack in a Scotch Game. However, White spent so much time looking for the killer blow, that he ran short of time and agreed a draw. 
There was then a lull as the other 3 games played out. Pope vs Scott was eventually drawn in an even position, leaving the last 2 games which were definitely not even in any way. Underwood-Paulden had been a complex position from the start in which pieces were left en prise while Black probed for weakenesses all over the board. Eventually, White cracked, and attention then suddenly focussed on Gosling's game. He had only c. 2 minutes left and was reduced to just ticking off his last few moves before move 40 was reached. He was a piece up but there were pieces and pawns all over the board. However, right at the death he found the far-from-obvious winning move that offered a piece back, but if taken would enable him to queen a pawn. A win and the match was saved. 3-3 was about what one would expect, the grades being what they were.
     Bremridge Cup  Div. 1                               27.02.2016.
 
EXETER 
Grd
 
 
EXMOUTH
Grd
 
 
1
Dr. Tim Paulden
185
1
0
Dr. Jon Underwood
184
 
 
2
Dr. Dave Regis
180
½
½
Steve Martin
183
 
 
3
Chris Lowe
179
½
½
Mark V. Abbott
177
 
 
4
Giles Body
163
½
½
Oliver E. Wensley
171
 
 
5
Matthew Best
155
0
1
Brian G. E. Gosling
157
 
 
6
Sean Pope
142
½
½
Christopher J. Scott
150
 
 
 
Totals
1,004
3
3
 
1,022
 
 
The ECF's new grades are out today, and those listed under the Exmouth heading are as follows.
Mostly the changes are little more than a point or two up or down, although worthy of mention are John Dye's appearance on the list for the 1st time and Simon Blak's 6 point increase (standard) and 8 point rise in rapidplay.
The new grades won't affect a member's eligibility for club teams in the DCCA as the July 2015 grades remain in force throught the subsequent season, but for individual entries into congress, these must be used, as the change may affect which section one can play in. 
Ref
Member
Name
Standard
Previous
Rapid
Previous
129415F
Gold
Abbott, Mark V
177
A
178
A
172
D
166
D
173289E
Bronze
Belt, Malcolm
133
B
133
B
115
D
112
D
286681L
Bronze
Blake, Simon
111
B
105
B
100
C
92
C
304385L
 
Dye, John
57
F
 
 
 
 
 
 
111446D
Gold
Gosling, Brian
157
B
154
A
 
 
 
 
181711F
Bronze
Grist, Ivor G
91
C
100
C
86
E
87
E
140874E
Bronze
Hodge, Fred R
96
C
92
C
128
F
135
E
266234G
Bronze
Hurst, Kevin J
175
C
183
E
168
D
 
 
113895K
Silver
Jones, Robert H
118
B
118
B
133
B
137
C
270931E
Silver
Martin, Steven
183
B
184
B
157
C
166
E
116002D
Bronze
Murray, Stephen
150
B
151
B
140
E
141
E
118154D
Silver
Rogers, David R
137
A
140
A
 
 
 
 
248908K
Bronze
Scott, Chris J
150
A
149
B
152
C
157
B
290163J
Gold
Shaw, Meyrick
178
A
177
A
178
A
171
B
155629A
Gold
Stephens, John
196
A
196
B
182
E
182
D
273557L
Bronze
Thomson, David
104
F
105
F
 
 
 
 
242384E
Gold
Toms, David A
161
B
162
B
 
 
 
 
242283K
Gold
Underwood, Jon
184
C
186
C
192
D
202
D
285021H
Gold
Wensley, Oliver
171
A
170
A
154
D
156
C
Exmouth's defence of the DCCA Div. 1 tournament continued with a match against Tiverton. Originally scheduled as a home match for Exmouth, finding a suitable venue proved very difficult. Finding 5 hrs parking in Exmouth on a Saturday afternoon is near impossible at the best of times, but add to this the £50 hire charge being asked by several places, and the Manor Hotel being closed for the week, led Exmouth to asking whether Tiverton could host the match. This was agreed and Exmouth were happy to  pay their £17.50 hire charge.
So far so good; but the weather conditions driving up the motorway towards Tiverton were atrocious to the point of being potentially dangerous, with torrential rain and spray all the way. John Stephens driving up from Plymouth found the main A38 blocked and he was redirected to minor roads and phoned in to say he would be late, and Steve Martin didn't know where the venue was situated in the town. Thus the omens were not good, but at least all the Exmouth team were in place by 2.30. The Tiverton team was somewhat compromised by the unavailability for one reason or another of several of their top players; Rudd, Richardt, Duckham, Hunter et al. and they had drafted in 2 other Cornish players besides Simon Bartlett to make up a competitive team.
In spite of all this, play got under way at the appointed hour (14.30); quiet descended and a drama slowly unfolded.
The first games to finish were on Bds 5 &6.  On bottom board, Chris Scott was able to fork 2 rooks with his knight on move 24 and it was all over 3 moves later. On Bd. 5 Oliver Wensley reported on his game tus: "White abandoned his regular Kings' pawn opening in light of a recent match against his opponent, albeit rapid play, where his Caro-Kann defence was extremely effective.
Whether or not this shocked Black, he seemed completely fine with his Dutch defence until move eleven where, with White as yet uncommitted to castling, he decided to go on the offensive with 11…. Qh5. This allowed White to win a key central Pawn as Blacks' back rank defences had been abandoned. Having analysed the position, Black stood equal by developing his Queens' Bishop to e6 instead. Here White probably would have played Ng5 attacking it.
White had earlier ceded the Bishop pair advantage to Black in order to prevent Ne4. The better way forward for Black would be to develop his Bishop to e6 and potentially allow white to equalise by allowing the exchange of his Bishop for Whites' Knight.
After the text move, White realised the e5 space was in the offing for his Knight should a series of exchanges take place & this is what occurred. In the end, White took advantage of the open e-file & with Black's queenside not developed, managed to get the advantage." After playing 21.Ne5 getting his knight established in a forward position with threats, Black resigned.
And the games continued to finish in sequence – Bds. 4,  3,  2, and finally Bd. 1 which went to the last few seconds of extra time, and each one went to the visitors. Mark Abbott got the upper hand with just a rook and 2 minor pieces left.  Jon Underwood's game revolved around control of the long dark-square diagonal towards his opponent's king, which finished with a fatal skewer. This left the top two games which were very finely balanced throughout, until the clock eventually decided the outcome.  Bd. 2 featured a R+4 vs R+5 pawn ending. Martin had the extra pawn, but Retallick, with great concentration, managed to create his own threats. Looking at the clocks it appeared both players had the same amount of time left – a few minutes each, but in his concentration on the board, Retallick hadn't fully appreciated that his few minutes left was of his 20 minutes extra time, while Martin's few minutes left was of his original allocation of 100 minutes to reach move 40.  Suddenly his clock started flashing red to indicate all his time had elapsed. 5-0.  The Stephens-Hewson game looked completely blocked with pieces being shuffled around behind a barrier of pawns. When Stephens was down to 3 minutes left, compared to his opponent's 7 minutes, he launched a pawn advance that opened the a-file and he won a piece. His own pieces now had some room to manoeuvre and Black had to use up his time advantage in trying to work out the better lines. Eventually, his time ran out with Stephens' own clock well into  his final minute.
Such results at this level are rare, but not unique, as Brian Hewson recalled a Plymouth 6-0 Exeter result between 2 evenly matched teams; the following year the same two teams in the same competition recorded Plymouth 0-6 Exeter. 
 
Bremridge Cup  Div. 1                         09.01.2016.  
 
Bd
TIVERTON
Grd
 
 
EXMOUTH
Grd
1
B. W. R. Hewson
176
0
1
J. K. F. Stephens
196
2
L. Retallick
171
0
1
S. Martin
184
3
P. Hampton
175
0
1
Dr. J. Underwood
186
4
S, Bartlett
167
0
1
M. V. Abbott
178
5
I. S. Annetts
151
0
1
O. E. Wensley
170
6
G. Fotheringham
135
0
1
C. J. Scott
149
 
 
975
0
6
 
1,063
There were 3 adopted Devonians at the World Seniors Championship being held in Italy.
Mark Jordon posted this report on Rds. 7 & 8 on the ECF website.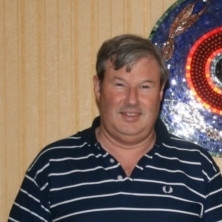 In the last installment we reported that Keith Arkell had reached 5/6 in the 50+ and was about to face GM Mohr (2443) in Round 7. Unfortunately for his hopes of at least repeating the success of his Silver medal last time, Arkell lost against a player who is clearly on form. Therefore, to keep his chances of a medal alive, Arkell needed a win in Round 8. This was not to be, and he suffered another loss, this time at the hands of GM Ivanov (2506). If he finishes strongly he still has a chance of a medal but this is a big ask given his present position in the rankings and with only three rounds to go. If he doesn't win a medal he at least has some compensation in the form of a win, on a tiebreak with Mohr, in the Seniors Blitz event which took place on the first rest day. 
The battle for the first is proving very competitive with no-one managing to break clear of the pack. After round 8 Nikolic, tournament favourite and former World Championship Candidate, is in the lead on 6.5/8 with GMs Rosentalis, Ivanov and Mohr in hot pursuit on 6/8. Of the other English participants, Meyrick Shaw is having a very good tournament with a performance well above his current rating and a score of 4.5/8. Brian Hewson is on 3.5/8 and Owen Phillips 3/8.
His final report included this para:
Meyrick Shaw, as mentioned in previous articles, had a very good tournament, defeating IM Smolin (2295) and achieving draws against GM Kristiensen (2420) and IM Soylu (2377) along the way, and ended with a score of 6/11 and an 80 point boost to his Elo. The other English participants were Brian Hewson 5.5/11 and Owen Phillips 5/11, both of whom performed creditably.
Now that the event is over, here is a preview of the Western Morning News column for Saturday, which takes the story a little further…
Acqui Terme, midway between Genoa and Turin, is said to be one of the prettiest towns in Italy, and for most of November has been hosting the World Seniors Chess Championships. The bulk of the English entry in the one hundred strong 50–65 yrs section, was made up of three adopted Devonians; Keith Arkell (Paignton), who came 1st= last year, Meyrick Shaw (Exmouth) and Brian Hewson (Tiverton). This time, however, Arkell (4th seed) couldn't quite maintain his previous form and finished 12th= on 7/11 points, and not very far behind him were Shaw (60th seed) 30th= on 6 pts and Hewson (53rd seed), 45th= on 5½, which made Shaw's the stand-out performance. In Rd. 1 he was paired against a Grandmaster.
White: M. Shaw (2020). Black: GM Jens  Kristianson (2420).
1.d4 Nf6 2.Nf3 e6 3.Bf4 b6 4.Nbd2 Bb7 5.c3 Be7 6.Qc2 c5 7.e4 cxd4 8.Nxd4 Normally one would retake towards the centre with  8.cxd4 but the text is slightly better. 8…Nc6 9.Nxc6 Bxc6 10.Rd1 0–0 11.Bd3 Nh5 12.Bg3 h6 13.Nc4 Nxg3 14.hxg3 This time it's appropriate to take towards the centre as it opens the h-file, allowing the rook to focus on the enemy king's position. 14…Qc7 15.f4 d6 16.Ne3 Bringing forces over to the kingside. 16…Rad8 17.Qe2 Qb7 18.Ng4 Rfe8 The critical position 19.Rd2? White missed the chance of a possible win if he had proceeded with his sacrificial attack immediately.19…e5 Black would like to bring his bishop to g5 with the dual purposes of shoring up his defences and attacking along the dark diagonal. 20.Nxh6+! gxh6 21.Qg4+ Kh7 22.Qf5+ The king must remain in contact with his h-pawn. For example, if 22…Kg7 22…Kg8 23.Rxh6 and White has a number of different mating combinations. 23.Qg4+ Kh7 24.Qf5+ Drawn by forced repetition of moves. A good start in the tournament for the club player.   His Rd. 7 game went like this:
White: M. Shaw (2020). Black: Brian McLaren (2176)
Dutch Defence [A80]
1.d4 f5 2.Nf3 Nf6 3.Bf4 e6 4.e3 b6 5.Bd3 Bb7 6.c4 Bb4+ 7.Nc3 Bxc3+ 8.bxc3 0–0 9.Qb3 d6 10.c5 Bd5 11.c4 Be4 12.cxd6 cxd6 13.Be2 Nc6 14.Qa3 A double hit on d6. 14…e5 15.dxe5 dxe5 16.Nxe5 Nxe5 17.Bxe5 Black has lost a pawn so far in these exchanges and seeks to catch up, but there's an old adage about the danger of snatching at knights' pawns. 17…Bxg2 18.Rg1 Bc6 19.Rd1 Suddenly all White's pieces have long files and diagonals to exploit. 19…Qc8 20.Qd6 Ne8 21.Qh6! piling on the pressure. 21…Qb7 22.Bh5 Qe7 23.Qxc6 Qxe5 24.Qxa8 Qxh2 25.Rh1 1-0 Black is a whole rook down with no compensation.
The Exmouth team made their annual pilgrimage to Seaton on a dark stormy midwinter night (nothing unusual there), with little hope of doing anything much against the new Champions. Sure enough, on arrival the home team were at maximum possible strength (599 rapidplay grading points) while the visitors were c. 50 points light. However, their low expectations proved unfounded as the match turned out to be what might possibly be one of the biggest upsets of the season in Devon chess.
Scott and Jones had no trouble in holding the fort in the middle order. In fact, in Game 2,  Scott, with plenty of time left, a rampant queen and in no immediate trouble,  let off his opponent with a draw when he had only seconds left on his clock. Blake had some careful defending to do at times in spite of his material advantage, but managed to avoid any potential pitfalls, while team captain, Mark Abbott was on top form and enjoyed 2 decisive wins against the most highly-graded rapidplay expert active in the DCCA leagues.
Everyone in Devon chess was pleased that earlier in the year Seaton had won their first DCCA trophy, the Newman Cup, very well-deserved after many years of trying, and indeed, they may yet retain it this year, in spite of this inauspicious start. But as in all sports, while winning a trophy is one thing – retaining it is quite another.  
 
Newman Cup (rapid)
 
 
 
 
 
 
19.11.2015.
 
 
Seaton
 
Rd1
Rd2
 
Rd1
Rd2
Exmouth
 
1
Jonathan Underwood
202
0
0
 
1
1
Mark Abbott
166
2
Steve Dean
150
½
½
 
½
½
Chris Scott
157
3
Martyn Adams
139
½
½
 
½
½
Bob Jones
137
4
Alan Dowse
108
0
0
 
1
1
Simon Blake
  92
 
Totals
599
1
1
 
3
3
 
552
 
Grand total
 
2
 
6
 
 
Exmouth may have been blitzed several times during WW2, but Exmouth Chess Club had its first taste of true Blitz Chess last night, when they managed to borrow 4 new digital programmable clocks, which were set at 3 minutes per player per game, with an added increment of just 2 seconds per move made. This meant games could last little longer that 8 minutes – if that, making it a true baptism of fire.  Seven members turned up and played each other twice, with colours reversed, that's if they could actually remember what colours they'd had in the first game, such was the mind-numbing qualities of the process, otherwise they tossed again.
After 12 games each, these were the results:- (current Rapidplay grades are indicated – not quite the same as blitz, but near enough). 
| | | | | | | | | | | | |
| --- | --- | --- | --- | --- | --- | --- | --- | --- | --- | --- | --- |
|   | Name | Grd | 1 | 2 | 3 | 4 | 5 | 6 | 7 | Tot. | Pos. |
| 1 | Meyrick Shaw | 171 | X | 2 | 2 | 1 | 1 | 2 | 2 | 10 | 1st |
| 2 | Chris Scott | 157 | 0 | X | 1 | 2 | 2 | 2 | 2 | 9 | 2nd |
| 3 | Malcolm Belt | 112 | 0 | 1 | X | ½ | 1 | 2 | 2 | 6½ | 3rd= |
| 4 | Steve Murray | 141 | 1 | 0 | 1½ | X | 2 | 1 | 1 | 6½ | 3rd= |
| 5 | Bob Jones | 137 | 1 | 0 | 1 | 0 | X | 1 | 2 | 5 | 5th |
| 6 | Ivor Grist | 87 | 0 | 0 | 0 | 1 | 1 | X | ½ | 2½ | 6th= |
| 7 | Fred Hodge | 135 | 0 | 0 | 0 | 1 | 0 | 1½ | X | 2½ | 6th= |
This has been an annual pre-season jaunt for decades, designed to get the brainwaves back into operation after the summer break. The buzzer itself was constructed by Fred Hodge in his garden shed many moons ago, and works perfectly. 
The organisation is simple. Set the buzzer going at opening time, in our case 6 p.m. and anyone can arrive at any reasonable time. (a) Write your name on the results chart. (b) Wait for a fellow member to be free. (c) Toss for colour. (d) White makes the 1st move on the next convenient "buzz". However obvious the reply, Black must wait the 10 seconds till the next buzz before making his/her reply. And so on. (e) Fill in the result on the chart 
 At the start of each game,  those 10 seconds seem like an eternity, but once in the middlegame that same time span is reduced to the blinking of an eye, as one searches desperately for the best continuation; is it better to attack or defend in this fiendishly complicated position?! 
Here is the completed chart. The grades are their current rapidplay grades, or standard grade where they don't have a rapidplay grade. Of course, the Buzzer tournament is technically not rapidplay (it's much worse than that) but it does give a clue as to relative skills.
| | | | | | | | | | | | |
| --- | --- | --- | --- | --- | --- | --- | --- | --- | --- | --- | --- |
|   | Name | Grd | 1 | 2 | 3 | 4 | 5 | 6 | 7 | 8 | Total |
| 1 | Chris Scott | 149 | X | ½ | 1 | 1 | 1 | 1 | 1 | 1 | 6½ |
| 2 | Meyrick Shaw | 177 | ½ | X | 1 | 1 | 1 | ½ | 1 | 1 | 6 |
| 3 | Kevin Hurst | 183 | 0 | 0 | X | 1 | 1 | ½ | 1 | 1 | 4½ |
| 4 | Bob Jones | 137 | 0 | 0 | 0 | X | 1 | 1 | 1 | 1 | 4 |
| 5 | Simon Blake | 105 | 0 | 0 | 0 | 0 | X | 1 | 1 | 1 | 3 |
| 6 | Steve Murray | 141 | 0 | ½ | ½ | 0 | 0 | X | 1 | 0 | 2 |
| 7 | Ivor Grist | 87 | 0 | 0 | 0 | 0 | 0 | 0 | X | 1 | 1 |
| 8 | Fred Hodge | 135 | 0 | 0 | 0 | 0 | 0 | 1 | 0 | X | 1 |
RapidPlay is proving to be a forte of Chris Scott, who certainly played above his grade on this occasion. 
The new Grading List came out recently, with the majority of members showing a healthy up-turn in the grades, arising out of what was a highly successful season, both in inter-club matches and congresses.
Well done to all concerned – but don't forget…… what goes up must come down!
Name
New
from
Rapid
 from
Abbott, Mark V.
178
 
171
 
166
 
168
 
Badlan, Tom W.
82
 
  81
 
  77
 
  77
 
Belt, Malcolm
133
 
128
 
112
 
122
 
Blake, Simon
105
 
106
 
92
 
90
 
Gosling, Brian G.E.
154
 
148
 
 
 
 
 
Grist, Ivor G.
100
 
  98
 
  87
 
  83
 
Hodge, Fred R.
92
 
  94
 
135
 
131
 
Hurst, Kevin J.
183
 
183
 
 
 
 
 
Jones, Robert H.
118
 
125
 
137
 
139
 
Martin, Steven
184
 
178
 
166
 
166
 
Murray, J Stephen
151
 
141
 
141
 
140
 
Rogers, David R.
140
 
152
 
 
 
 
 
Scott, Chris J.
149
 
154
 
157
 
159
 
Shaw, Meyrick
177
 
173
 
171
 
164
 
Stephens, John K.F.
196
 
196
 
182
 
181
 
Thomson, David John
105
 
152
 
 
 
 
 
Toms, David A.
162
 
159
 
 
 
144
 
Underwood, Jonathan WR
186
 
182
 
202
 
196
 
Wensley, Oliver E.
170
 
151
 
156
 
154
 
Also, hearty congratulations are due to John Stephens, who has topped off a brilliantly successful season for the Club by becoming the Devon Individual Champion, after beating Dr. T. J. Paulden in a play-off after drawing their 1st game. 
Bob Jones
Exmouth hosted a Newton Abbot team, knowing that a win for either side would be enough to win the Mamhead Cup Devon's Division 2, although Exmouth had the feint comfort that a 2-2 draw would give them the title. To this end, both captains had packed their teams with grading points up to the permitted maximum of 639. Both clubs had their top player on Bd. 1, but the difference then was that Newton Abbot had averaged their next 3 boards, while Exmouth had packed everything they had on to Bds. 2 & 3, and filling in an improving player on Bd. 4, in the hope that he might be able to extract something from his game. Team captain, Oliver Wensley, was unable to fit himself in the team, and was obliged to watch from the sidelines.  
This particular hope was not borne out as Blake's opponent, the rapidly improving Vignesh Ramesh, whose latest rapidplay grade is actually 160+, won and Exmouth went 0-1 down, which put increasing pressure on the other 3. For some time, there seemed little between the sides in each game. Eventually, Mark Abbott, using the greater freedom that his pieces had, managed to conjure up a sharp winning attack, thereby levelling the score.
Bds 1 and 3 both went down to the final seconds of normal time and final minutes of extra time. Stephens was gradually being positionally stifled, as Mackle got a pawn to the 7th and his opponent had to commit a knight to h8 to block it. Eventually he had to concede as Mackle could pick up pawns at will. Shaw had gone a piece up, but Brooks found a lot of counterplay as his pieces were better unified. Shaw had to reconfigure and reorganise his army, which he managed. With c. 2 minutes left for each player he won a central pawn with a knight fork that swapped off queens and immediately after a bishop fork won a rook, and with it the game. 
A finish to the match that was as nerve-wracking for the spectators as the players. Thus Exmouth added the Mamhead Cup to the Bremridge Cup they had won a fortnight before.
The match details and resulting league table as follows:
| | | | | | | |
| --- | --- | --- | --- | --- | --- | --- |
|   | Mamhead Cup |   |   |   | Div. 2  25.04.15. |   |
|   | Exmouth | Grd |   |   | Newton Abbot |   |
| 1 | J. K. Stephens | 194 | 0 | 1 | D. Mackle | 203 |
| 2 | M. V. Abbott | 173 | 1 | 0 | M. Hui | 150 |
| 3 | M. Shaw | 170 | 1 | 0 | P. Brooks | 154 |
| 4 | S. Blake | 102 | 0 | 1 | V. Ramesh | 132 |
|   | totals | 639 | 2 | 2 |   | 639 |
| | | | | | | | | | |
| --- | --- | --- | --- | --- | --- | --- | --- | --- | --- |
|   | Mamhead Div. 2 | 1 | 2 | 3 | 4 | 5 | + | - | pts |
| 1 | Exmouth | X | 1 | 2 | 2 | 2 | 11 | 5 | 7 |
| 2 | Newton Abbot | 1 | X | 1 | 1 | 2 | 10 | 6 | 5 |
| 3 | Tiverton | 0 | 1 | X | 2 | 2 | 9 | 7 | 5 |
| 4 | Barnstaple | 0 | 1 | 0 | X | ? | 3½ | 8½ | 1 |
| 5 | Teignmouth | 0 | 0 | 0 | ? | X | 2½ | 9½ | 0 |